ProdataKey
A Giant Step for pdk io. A Monumental Leap for Access Control.
UPDATED 7.28.17
Some pretty big updates are coming to the pdk.io platform, including faster updates, multi-factor authentication, new People settings, custom card formats, Aperio hardware integration, new language support, and Storage Software integration. This is a big update, and it's just the beginning of many of new features and integrations coming to pdk io!
Software upgrades just got easier and faster than ever.
Now, every pdk io update is super efficient and bandwidth friendly. That means updates happen quickly, never bog down your network, or chew through your data. In fact, we increased the speed of our updates by 10x while decreasing the size by 1000x Pdk.io software upgrades happen automatically across the entire pdk io platform. That means every io device gets an over-the-air firmware update that requires no effort on a dealer or end-users part. Just sit back, relax, and let us do all the work. As part of our rapid development cycle, we'll be releasing software updates every two weeks. We'll be sending out alert emails as well as posting detailed information about each release within our blog. Be sure to subscribe to our emails and check the blog regularly.
Multi-Factor Authentication and Duress PIN Support
Multi Factor Authentication enhances door security by requiring users to present additional credentials to be granted access to a door. Now, you can keep doors secure even if a user loses their credential or shares their PIN number. Setting up multi-factor authentication is simple. Choose from flexible policy configurations by deciding when, where, and who your multi-factor policy applies to. Policies can be configured for each user, or you can apply a policy to a specific door. Choose from PIN number only, Card only, Card and PIN, or Card or PIN. Contact our sales and support staff for additional information.
In addition to multi-factor, we've added the ability to assign users a duress PIN. In the event of an emergency or forced entry users can now enter a Duress PIN causing the door to unlock and the system to send a silent alarm to alert the authorities. Get total peace of mind and avoid potentially dangerous situation.
New People Settings
Scheduling users access makes personnel management a snap. Enter an activation date with no expiration to grant permanent access, or enter an expiration date with no activation date to be sure that user access is revoked on a specific day. Have a user that needs to be granted access, but only for a limited time frame? Never worry about those users again. Simply schedule user access to activate and expire on specific dates and pdk io will take care of the rest.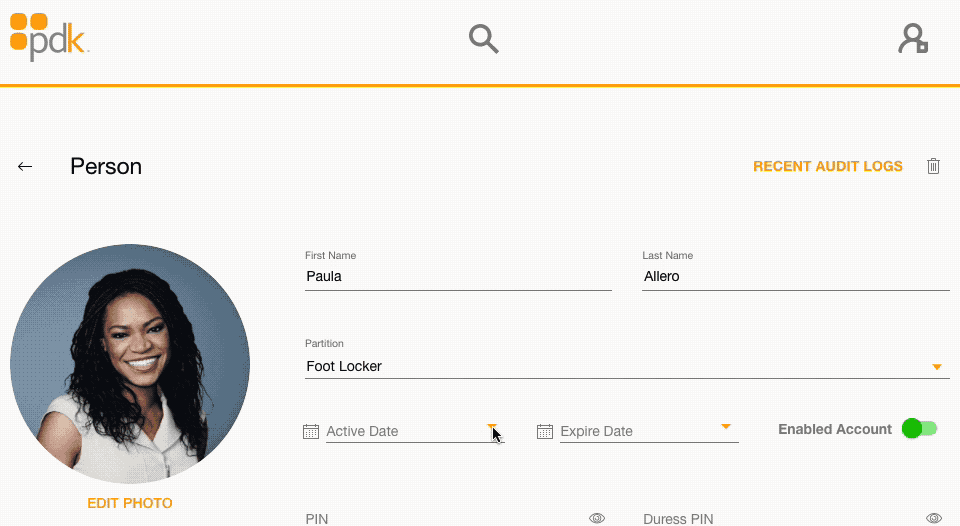 Enabling/Disabling a user profile is now super fast! Use the Enable/Disable Account toggle button to grant/revoke access without ever deleting the user.
Custom Card Formatting
You can now add in custom card formats right inside the configuration settings within pdk io. Manage all of the card formats in one place. Choose from pre-defined formats or upload your own to make it instantly available! There are no messy configuration settings, and we've made it easier than ever to add any card format. Can't find a format? No problem! Just contact our support staff, and we'll find it for you as well as test it for compatibility. With custom card formats, customers will save a lot of money by reusing the credentials from their old system.
Aperio Wireless Lock Integration
Aperio hardware integration provides an easy, and cost-effective way to connect more openings as well as greater flexibility to support hard-to-secure areas such as lockers and cabinets. Take advantage of pdk.io's ability to provide full mobile configuration and management, as well as instant alerts on virtually any event, including power and battery supervision. The Aperio integration also takes advantage of pdk.io's 180-day automatic system backups, so you never have to worry about losing valuable system data, settings, and configuration. Read the full press release on our blog.
New Language Support
Pdk io now supports English, Spanish, French, and Russian. To set your preferred language go to your profile settings, make sure that "Account" is highlighted in blue, then select a language from the drop-down menu and press SAVE. When accessing pdk io via the web, it will now intelligently switch to your preferred language based on the language settings of your browser.
Storage Unit Integration
By integrating pdk.io with storage unit software/services, facility managers can set rules to automatically grant/restrict access to customers. For example, facility managers can set a rule to restrict access to users who are behind on their payments. Customers could then receive an alert to their mobile device notifying them of their past due balance along with a payment link. Once the payment is made the customer is granted access again. It all happens automatically, without ever lifting a finger.
SiteLink Take self-storage management to a whole new level. Ready to go out of the box, SiteLink is a comprehensive cloud-based solution to self-storage management. Pdk.io now integrates with SiteLink to automate storage facility access like never before. The possibilities are virtually endless as SiteLink offers a wide range of integrated services within their online marketplace. Learn more about SiteLink by visiting them on the web. Easy Storage Easy Storage offers state-of-the-art website & web-based storage unit software to facility managers. Easy Storage is a widely used software program within the storage unit industry. Pdk.io now integrates with Easy Storage software to automate facility access. Facility managers using Easy Storage can now set rules to automatically grant/restrict access based on certain customer criteria. Learn more about Easy Storage by visiting them on the web.
Coming July 31 2017
12 AM MST
How does the update work? Everything happens automatically in the cloud. Every io device gets an over-the-air firmware update that requires no effort on a dealer or end-users part. Just sit back, relax, and let us do all the work.